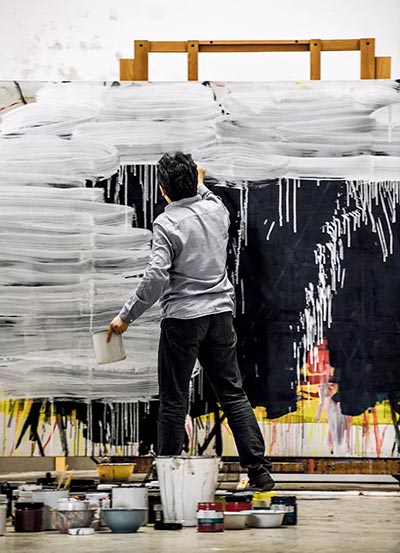 Tan Ping working in his studio. [Photo by Hao Ke and Yan Jiayi/China Daily]
Beijing-based artist Tan Ping works in painting, lithography, mixed media and design in a career that has spanned four decades.
And Tan's upcoming exhibition, titled Duet: A Tan Ping Retrospective, will be open on June 15 at Shanghai' Yuz Museum.
Curated by prominent historian, critic and curator Wu Hong, the exhibition which runs through Sept 22, will review Tan's endeavors in painting and printing, tracing his evolution in creation and thought.
And it also provides a glimpse into the development of contemporary Chinese art and zooms in on artists who, like Tan, were trained at home and studied abroad through the 1980s and early '90s and whose works are reshaping China's art landscape.
출처: https://www.chinadaily.com.cn/a/201905/30/WS5cef3685a3104842260bea2f.html